Las Vegas Themed Evening – 12th November 2021
Viva, Viva Las Vegas!
Are you looking to dazzle and be impressed with an exhilarating night to remember? Well look no further than our Fabulous Las Vegas themed evening, hosted by Andy Smith Presents. Get your friends or loved ones together and step into a different world. Enjoy a delicious three course dinner along an evening of entertainment including casino tables and a Vegas style disco till late.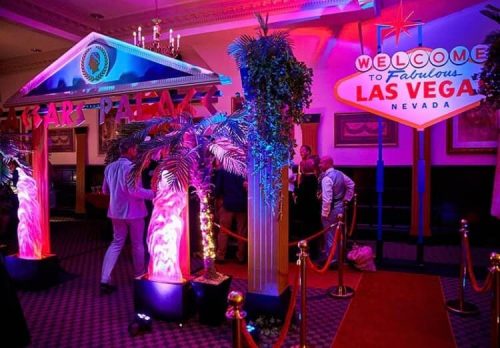 What can you Expect at our Las Vegas Themed Evening?
The room will be dressed with some amazing props and lighting to re-create that Las Vagas look and feel. From giant playing cards to tropical palm trees (all in the best possible taste) so there will be plenty of places to take some pictures so you can make some fabulous memories with loved ones or friends.
Check out the billboards advertising famous Las Vegas events and acts that who have played in Las Vegas from Elvis Presley, Britney Spears, Elton John, Frank Sinatra and Sir Tom Jones to sporting greats.
Listen to some Las Vegas style music whilst you play the tables with blackjack, poker and a roulette wheel. You will be helped by professional and immaculately presented croupiers  – a fortune won and lost on every deal (not really it's only fun money!).
All you up for it?! All you need is a strong heart and a nerve of steel.
Viva, Viva Las Vegas. the cost is just £39.95 per person
Menu
Roast Chicken Breast, Boulangere Potato, Mushroom & Pancetta Jus
Mediterranean Vegetable & Mozzarella Tart, Rocket, Herb Dressing
~oo00oo~
Warm Chocolate Brownie, Dark Chocolate Sauce, Vanilla Ice-Cream
Orange Crème Brulee, Chocolate Chip Cookie
To book please call us on 01952 677269
Why not make a night of it?
Hadley Park is a luxurious four-star hotel in Telford and we are offering a special accommodation rate of £99 per double room which includes a delicious, freshly cooked Shropshire breakfast the next morning! Hadley Park House is close to many attractions and offers the perfect hotel stay to visit Ironbridge, RAF Cosford or the market town of Shrewsbury.